John Buxton's War Diary
April 26th - May 10th 1945
Sic aeternos reficit cursus
Alternus amor, sic astrigeris
Bellum discors exulat oris.
Boethius
And discordant strife is driven
From the starry realm of heaven.
Thus, in wondrous amity,
Warring elements agree.

Translated by H.R. James (1898)

- o O o -
April 26th
Had the best night's sleep since I left Eichstatt. This morning some of the German staff from there arrived, and brought news of its liberation.

Sorted out my kit preparatory to going home, and made a sort of base for carrying Marjorie's portrait (which Harold Speed had drawn in 1943 and sent out to me): I backed it with some 3-ply and encased it in a filthy pillow-case. This, my MSS and this notebook (for the addresses) are the essential things to carry.

4.30 p.m. two RAF Mustangs (markings clearly visible) flew round a few hundred feet above the camp, perhaps to make sure we are still occupying the place. Rumour that the Americans are expected tonight or tomorrow morning. It was five years yesterday since I last saw Marjorie, and now may be I shall be with her within a fortnight.
April 27th
Another good night and undisturbed. RAF say the two low-flying Mustangs over yesterday were taking large scale photographs of the camp so that our release can be arranged.
April 28th
Sounds of gunfire this evening to west and south-west. Senior Allied Officer has now taken over command of internal arrangements in camp. Germans will remain to protect camp from outside disturbance. The Commandant invited in the Group Captain and the senior American officer, Col. Palmer, and asked them to go into Moosburg to contact the Americans with a view to surrender. They returned at 3 a.m. as nothing seemed to be happening. Later envoys with a Swiss Red Cross man went out, at the instance of the local SS divisional commander, to ask for a neutral area to be provided about the camp.
April 29th
Gunfire audible at intervals during the night, but had a good night in defiance of this. While eating breakfast some bullets came cracking and whining into camp. This was soon after 10 o'clock. This continued for about an hour and a half, which I spent mostly indoors, though I saw some objects in the distance which I was assured were American tanks.

Just before this, two Mustangs had circled the camp so low that I could see one of the pilots waving as we waved in return: these were RAF. At 1240 the Stars and Stripes was visible over Moosburg. About this time, or a few minutes later, the German guard went past the wire in full kit to surrender.

About 1315 the Stars and Stripes, the Union Jack and the Red Flag were hoisted over the entrance to the camp: much cheering, but excitement is reasonably controlled, perhaps because of our distance from the flag-posts. It is now 2 o'clock and more cheering as I write this greets entry of a Sherman tank up the Lagerstrasse. This was from the 14th Armoured Division of the 7th US Army under General Patch. Well, these are the events of this day so far.

Last night the Commandant invited in the Group Captain and the senior American officer, Col. Palmer, and asked them to go into Moosburg to contact the Americans with a view to its surrender.

Comment on this day is impossible: we have lived for this for almost five years - and the Stars and Stripes hoisted over Moosburg can, I suppose, be taken for the end of our waiting. Besides, I think I feel too dazed - incredulous - to make comment; and at present, though we may be technically "free", in effect we are not.

This afternoon was something of an anti-climax: how should it not be so? I was on the gate, on guard duty, 3-5 p.m., towards the end of which time a US battery started registering from some-where to NW. This didn't last very long. Flags of all nations hoisted over the camp.

The German guard were each given 1/6th of a Red Cross parcel before being marched back. They threw arms and packs over the wire on their way to surrender, in return for cigarettes. There is said to be a battalion of tanks deployed about the camp in our defence. There are certainly three near the entrance, anyhow. It is too dark to write more, and I am too tired.
April 30th
Quite heavy shelling in the night, also a few rifle and LMG shots - otherwise a good night. Late last night we were at last allowed information about our rescuers; we were also told that the evacuation staff were expected about noon today - it is now 9.20 - and that evacuation would begin at once. Today we are to have one American Red Cross parcel each, and we may get American army rations, so we should do well enough.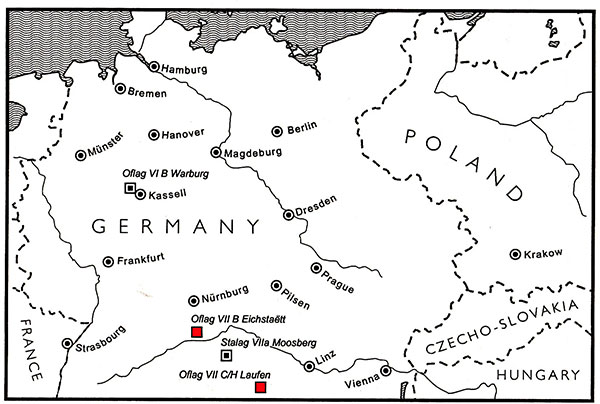 Location Map of Eichstatt and Laufen camps
May 1st
Much shelling kept me awake; also very cold. We got soup (unannounced) at 11.30. No prospect of bread as it has all been looted by the Americans. It has been snowing desultorily.

c.3.40 p.m., a whisper went round that General Patton was in camp. I went up to the Lagerstrasse and saw him, standing up in a jeep, in tin hat, battle-dress, and with a breastful of ribbons. He visited a tent and spoke conventional congratulations on our bearing in these circumstances. He drove back slowly, standing up and saluting, with a much beringed hand. Most US officers seem to wear rings, and on the right hand, too.

22 trucks have come this afternoon to evacuate the sick and wounded, so that is a beginning. Proclamation by Eisenhower posted everywhere, about coming not as conquerors but to free the Germans from the Nazis.
May 2nd
A covering of snow on trees, roofs and grass. Further announcement: the airfield has now moved off another 20 km. to Landshut, our destination probably Brussels; forms to fill in coming this afternoon; we go to our airfield by truck, and are still allowed 45 lbs of kit. After filling in forms I went for a stroll in the woods between the camp and the river. In spite of cold, dull weather quite a lot of birdsong; and saw a great grey shrike take a swallow from a big flock over the river.
May 3rd
Very cold, but no snow. Yesterday all troops in Italy surrendered. Today we hear Berlin has fallen. The first parties left this morning, Indians, British, Americans. We are warned to be ready by 6 p.m. We paraded in our aircraft parties of 25.
May 4th
Bad night again. Went for a walk this afternoon to the main road bridge - completely blown, with a pontoon bridge downstream from it, over which was a constant stream of vehicles of all kinds.
May 5th
1320 I still haven't bothered to get up: weather vile and nowhere to sit except on my bed, where I can't sit owing to lack of headroom. The latest news I have from Marjorie is dated 31 December 1944...
May 6th
A somewhat disturbed night, with a gale of wind. I went for a three and a half hour walk through Moosburg and beyond by streams and fields. Very few signs of war, and damage to Moosburg negligible - a few broken windows, and bullet scars on one or two houses. A few houses still had their flags out.

One sees plenty of smiling faces, and no scowls: perhaps relief that the war is over and their town undamaged are the chief feelings. Plenty of redstarts about, singing and ticking in the woods and orchards. Not a shell-hole nor a bomb-crater. It is good to see the undamaged countryside and farms and cottages and forest so unmindful of the war that passed through here only a week ago.
May 7th
I had scarcely got to sleep for excitement, heat and noise when we were warned to he ready for 0440. So got up at 0315, shaved, washed - and the lights fused. However, they came on again eventually and we ate our few remnants of food and had a cup of coffee.

Paraded 0435 and at 0500 moved off out of camp to lorries - hundreds of them - and got aboard, 40 to a truck. We moved off at last at 0730 and got to Landshut, which is very badly damaged on the SW side near the railway. Dismayed to see some of those who left last Thursday (April 30th) still here in billets, and very sceptical of our conviction that we were going home. However, we went out to the aerodrome, parked, and were told we might be there most of the day. Settled down to snooze, but at 0945 a Dakota arrived with the Air Vice Marshal i/c evacuation. News eventually percolated that 200 planes were expected today, which should easily get us away.
May 8th
After a poor night interrupted by some LMG fire, I got up, shaved, ate some spuds and bread - we had had no rations - and at 1045 we were told to be ready to move off at 1100. We did, and marched straight on to the aerodrome and into a plane by 1200, without so much as halting.

There were over 80 planes on the aerodrome when we got there and we should have gone off at once but for an accident - one plane crashed into another when taxiing for take-off and five were smashed, and two burnt out. This delayed our start till 2.30 and we touched down at Rheims at 4.45.

Signs of war all over Germany, especially near the Rhine which we crossed (I think) near Karlsruhe. Very good reception at Rheims, with an excellent supper at once, and much impressed by brand new mess-tins, cups and blankets.

Heard the King's speech over a loud-speaker at 9 (until it faded out), for today is VE day, and the German war is declared officially to be over. Didn't hear Churchill, who spoke at 3 p.m.

Made a vain journey for a bath - a long way, by truck, but nothing happened for so long that John and I and some others got a lift back to camp, and ended up far dirtier than before. Slept on a camp bed in a tent of fourteen - the least crowded quarters I've slept in for five years.

A nightingale singing all through the night quite near - not a very good one, but a lovely welcome out of Germany. Armistice signed today at Rheims by General Jodl for the Germans.
May 9th
Up 0445, breakfast - porridge and two eggs and an orange I had my first for five years last night, after pointing one out to my neighbour as a curiosity. Into trucks 0630 and out through Rheims to a vast aerodrome where, as we arrived, Lancasters of RAF were coming in to take us out.

While we were waiting, a Rolls-Royce drove up and out stepped Air Chief Marshal Tedder. He spoke to us; told us he had just got back from Berlin after signing the surrender terms there on behalf of General Eisenhower. His had been the first British plane to land at the Tempelhof aerodrome. We asked what Berlin looked like. Tedder said he had never seen such a shambles. Now he would try to get us some food - we had had none since 5 a.m.

We left at 6.55 p.m. in a Pathfinder: of the crew of seven, British, Australian, Canadian, only two were uncommissioned. We landed at 8.50 at - of all places - Westcott. I am very sleepy and hungry at present, but I left Germany at last yesterday, and today am in England and tomorrow (surely) with Marjorie.
May 10th
So it was; I had been wondering, during the flight from Rheims, whether, after more than five years without seeing her, I should recognize Marjorie when we met, perhaps in a crowd at a railway station, and whether she would recognize me. I knew that her hair had now some grey in it, and there must have been changes in my appearance, although I did not know what these were.

"I know where I am," I said to one of my companions, "I live over that hill south-east from here." and the immediate recognition of an English landscape was especially reassuring. I could recognize the low green hills, with a beech hanger above the pasture, and this hill particularly since the cottage in Long Crendon where we had started our married life lay on the reverse slope.

There was no problem of recognition since the car, which took others on into Oxford, dropped me at the door of our cottage, where she was waiting for me.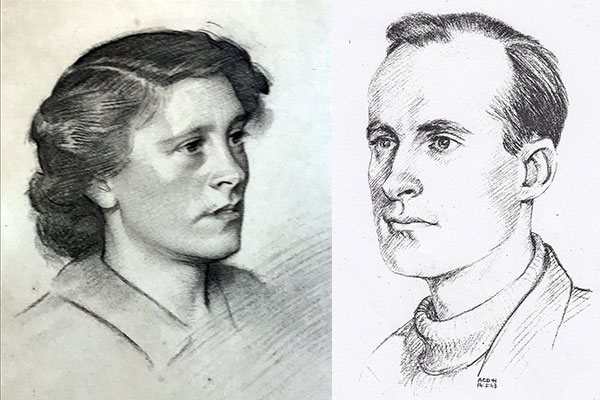 Marjorie and John Buxton 1943
Read the introduction :: Read poems from Five years to Liberty