Welcome to the Marcham Society website
The Marcham Society was founded in 1994 to encourage community interest in the history, natural history and environment of the village and the local area. We arrange eight evening meetings each year with talks by guest speakers or members. There are monthly walks and group visits to local places of interest. Projects include local history, building recording, coppicing and surveys of the churchyard, hedgerows, birds, and butterflies.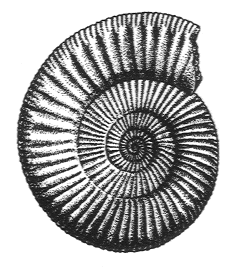 The ammonite, Perisphinctus pickeringius, symbol of the Marcham Society, is a local geological reference. The original named specimen was found in Marcham. Local Corallian limestone contains many such fossils.
We plan to meet on the fourth Monday of the month in the Main Hall of Marcham Centre at 7.30pm
To join or if you have questions about your membership,
please contact the Membership Secretary by email:
membership@MarchamSociety.org.uk
Subscription Rates (2021-22): Single £12, Family £21

Non-members and guests attending a talk are asked to pay £3 each.
For information on Covid Protocols at meetings: Covid protocols
---
The Coronavirus Lockdown Project
The Marcham Society is still running the project to record the Coronavirus Lockdown and its effects on people of all ages and their everyday lives in the village. We have been contacting as many of the villagers as we can to ask them to write a few lines or more, anecdotes or even a poem, with photos if possible, and share their experiences showing how village life has changed for them.

It may be used in future exhibitions, put on a website or published in book form at some point and if you wish to remain anonymous, that's fine.

If you have not already submitted a contribution, we would appreciate your help as we can't do it without you.
Please email your article to marchamlockdown2020@gmail.com
---